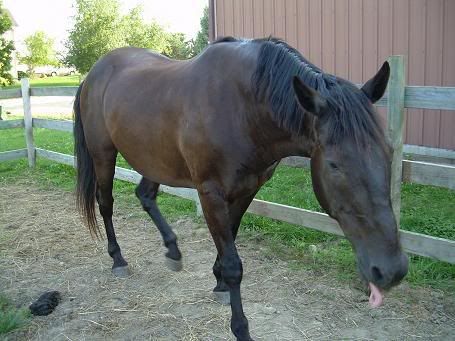 We had a sad day today. The BO made the decision to put one of her horses down due to health problems that seemed to just keep piling up. Klaus was a Percheron/ Thoroughbred cross in his late 20's. He had extensive schooling and was a barn favorite, especially to the lesson kids. He was blind in one eye, but it didn't seem to bother him and he was one of the kindest and sweetest horses out there.
Unfortunately, he had arthritis that would have crippled most horses, but he had an incredibly high tolerance for it and was still ridden up until last summer when he was diagnosed with ringbone. In the last year, his health continued to decline and he had several abscesses on his feet, along with a bad ligament. Just recently he was diagnosed with cushings, and that's what solidified the decision to euthanize him. He was kept reasonably comfortable and happy for as long as possible, but he'd lost weight and his fur was coming out in clumps. His owner couldn't watch him suffer any more, and he passed away today at about noon. He's going to be burried out in the pasture.
He was the coolest big, black horse in the world. He was spoiled rotten and had a good long life. He really was a perfect horse and we're all going to miss him terribly. Rest in peace, Klausie.